WHAT CREATES GREATNESS IN THE ENTERTAINMENT INDUSTRY?
Knowing Your Craft!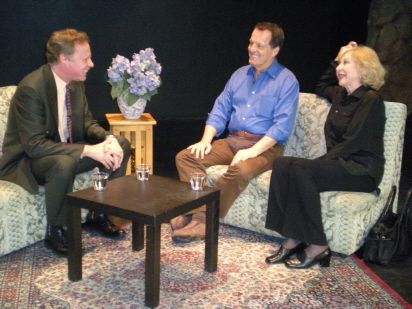 Luke Yankee interviews "Frasier" creator David Lee
and star of "The Waltons", Michael Learned
at the first CONVERSATIONS ON CRAFT seminar.

CONVERSATIONS ON CRAFT
is a monthly seminar series featuring interviews with some of the most prominent actors, writers, directors and producers of our time. These luminaries from the entertainment world will share what it takes to become a success and stay there.
Moderated by writer/director Luke Yankee, two speakers are featured at each event. In a relaxed, candid interview, they discuss their careers, their lives, and, of course, their craft.
CONVERSATIONS ON CRAFT
is held in conjunction with Stella Adler - Los Angeles, one of the oldest and most respected theatre schools in America.
While these artists are giving their time and their talent, they are also giving back to their community in two very special ways: a portion of the proceeds from ticket sales benefits the charity of the speakers' choice. Another portion goes to support scholarships and outreach programs at Stella Adler - Los Angeles.
ALL PROGRAMS ARE AVAILABLE FOR PURCHASE
OR AS STREAMING DOWNLOADS.